What to Say When the Insurance Adjuster Calls
June 20, 2022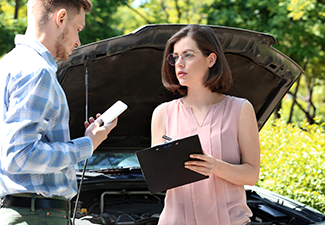 The hours and days after a car accident may be a blur. You've experienced a stressful event and you now have bills to pay for medical expenses and vehicle repairs. Dealing with an insurance company during such a time can be extremely overwhelming.
When you're under pressure and recovering from a stressful experience like a car accident, it's easy to make mistakes. However, mistakes made while speaking with an insurance adjuster could end up costing you full compensation.
At my firm, the Law Office of Patrick E. O'Neill, PSC, I will relentlessly negotiate with the insurance company on your behalf. I have over 20 years of experience, and I won't back down even if it means going to battle in court. I'll make sure you're prepared, and I won't stop until we achieve the best possible outcome for your case. My firm proudly represents clients in Jackson, Kentucky, as well as Campton, Stanton, West Liberty, Beattyville, Booneville, and the nearby areas.
The Insurance Adjuster's Role
Before you speak with an insurance adjuster, it's important to know their role. The goals of the insurance adjuster are to protect the insurance company's bottom line and to settle quickly. They don't want to lose their company's time or money. Insurance adjusters typically don't have medical or legal training, and they don't know as much about the accident as you do. They want to settle your case fast and for a low amount.
Requests for a Statement
You may receive a request to make a statement to the insurance adjuster. However, making a statement can have serious consequences for your case.
Why You Should Refuse
It is almost always in the car accident victim's best interest to not give a statement to the insurance adjuster. There are several reasons why you should refuse.
First, while you are giving your statement, the insurance adjuster will ask you contradictory questions to create inconsistencies. They can then use those inconsistencies against you, resulting in less financial compensation for you. Giving a statement without consulting with a personal injury attorney could cost you settlement dollars.
What to Say if You Choose to Give a Statement
You may still wish to give a statement after a car accident. If so, following these guidelines will help you protect your case.
Before you begin giving your statement, ask that it not be recorded. Do not admit that you were guilty of any mistake that could have contributed to the accident.
Keep your statement brief. Do not volunteer any additional information, but instead, answer their questions without going into detail. You should not answer questions that you don't know the answer to.
It is especially important that you do not sign any documents from the insurance company until they have been reviewed by an attorney. A personal injury attorney can guide you through the car accident claims process.
What Information Will They Ask Me to Provide?
After a car accident, the insurance adjuster may ask you to provide information about yourself and how the accident happened. They may ask questions about your employment status and the accident itself, as well as questions about your injuries.
However, it is important that you give only the absolutely necessary information to the insurance adjuster. You can share your full name, address, phone number, place of employment, and the type of work you do. However, you do not need to share specific information about your income or the details of the accident and your injuries.
How Legal Counsel Can Help
Dealing with an insurance company after a car accident can be overwhelming. With the help of an experienced personal injury attorney, you can avoid mistakes and protect your best interests. At my firm, the Law Office of Patrick E. O'Neill, PSC, I approach your case with compassion while focusing on results. I proudly represent clients in Jackson, Kentucky, as well as Campton, Stanton, West Liberty, and the nearby areas. Contact my firm today to set up a free consultation.